Homes For Sale


Wilson Middle School Boundary


Northwest ISD
---
WILSON MIDDLE SCHOOL HOMES FOR SALE
May 28, 2022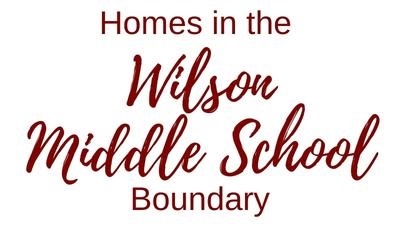 Eaton HS Feeder Pattern
Well Regarded School Boundary Offers Great Home Choices
The Wilson 'Wildcats' believe the right attitude, character, and effort are essential to living 'the Wildcat way'. The 1000 6-8th grade scholars who make up the student body can indeed have confidence that living their motto motto is working out well for them based on accolades from students, parents and school district officials alike
Located in Haslet, the school is situated within the Sendera Ranch community, close to the middle of the triangle created by Highways 114, 287 and I-35. The Wilson Middle feeder pattern is exclusively to Eaton High as of the 2018-2019 school year. Elementary students come from across North Fort Worth and Haslet from the elementary schools of Haslet, J C Thompson and Sendera Ranch.
There's a great variety of home styles and price ranges available to homebuyers looking in the Wilson Middle boundary; houses range from new construction on 50' lots to grand custom estates on acreage. Most every price range and amenity is available and there are enough choices to satisfy most everyone.
Wilson Middle opened in 2012 and you'll see their purple and black colors flying high throughout the area. For the most part, Wilson is filled by students from what is one of the largest planned communities in the DFW Metroplex: Sendera Ranch. The 3000 acre addition is expected to build out with around 9000 homes and over 200 acres when complete. Those students come from Thompson and Sendera Ranch Elementary Schools, both located within the neighborhood.
The third elementary Wilson draws from is Haslet Elementary. All Wilson Middle graduates move on the Eaton High. You can read a lot more about the Northwest School District here.
Why Buyers Choose Homes in The Boundary
Homes for sale that fall into the Wilson Middle School boundary are often new or newer. That's great news for home buyers looking for up-to-date and on-trend floor plans. Those looking to make a move into the area will also find lot sizes of every kind. There are plenty of the usual new home builders 50' homesites, as well as ½ acre and more options. There are homes with pools or 3 car garages and more than enough choices to please most any buyer.
The N. Ft. Worth, Haslet and the Alliance area's that feeds Wilson Middle includes "budget friendly" homes plus many neighborhoods that do climb in price quickly, and often sell well above the area average.
Some of the popular neighborhoods in the areas include Ashmore Farms, Avondale Ranch, Highland at Willow Springs and Ashton Meadows in Haslet. From the North Fort Worth area, students from Harmon Ranch and the new Hawthorne Meadows attend Wilson in addition to youngsters from Sendera Ranch. Hopefully this gives you a good idea of the types of neighborhoods and homes you'll find if you're considering houses in within Northwest District's Wilson Middle School Boundary.
Not sure which neighborhoods in the Eaton High School boundary would suit you? Feel free to reach out and let me know what you hope to find... I'm happy to provide you with a list of "must see" neighborhoods. -Cindy