KELLER SCHOOL DISTRICT BOUNDARY ONE STORY HOMES
September 29, 2023
Click to check out
All Keller ISD Homes
or browse Keller ISD by
Features & School Name
Search DFWMoves.com for
Single Story Ranch Homes by School District
Single Story Ranch Homes by City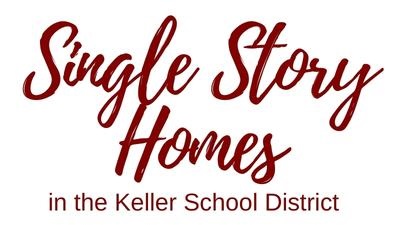 Keller One Story Homes Always Popularity
"One Story". "Ranch Style". "Single Level". It doesn't matter what you call them, demand for one level homes for sale in the Keller School District has never wavered. Some homebuyers in the area feel a single story home is more energy efficient, especially through our hot Texas summers. Sometimes families with younger children buying homes in the Keller ISD prefer ranch style properties to allow for all bedrooms on the same floor. Others prefer to find a new home where they can age in place.
What Are YOU Looking for in a Single Story KISD Home?
We list all the single story, ranch style homes for sale in the Keller ISD here for your convenience. We'd love to help you narrow down just the right neighborhood, school and home for you. Please reach out to us and share more about your wants and needs. We can set up a home search custom tailored to your specific requirements. We'll make sure you don't miss a single one story home for sale in the Keller ISD.