Marshall Ridge Keller TX Homes for Sale
November 30, 2023
Keller's Master Planned Community of Marshall Ridge
Marshall Ridge is one of the newer master-planned communities within Keller's boundaries. Located in the northwest corner of the city, the neighborhood offers easy access to Highways 114, 170 and 377 so homeowners are open to a wide selection of employment centers, shopping and dining choices. The 440 acre community is one of Keller's largest communities at around 825 homes.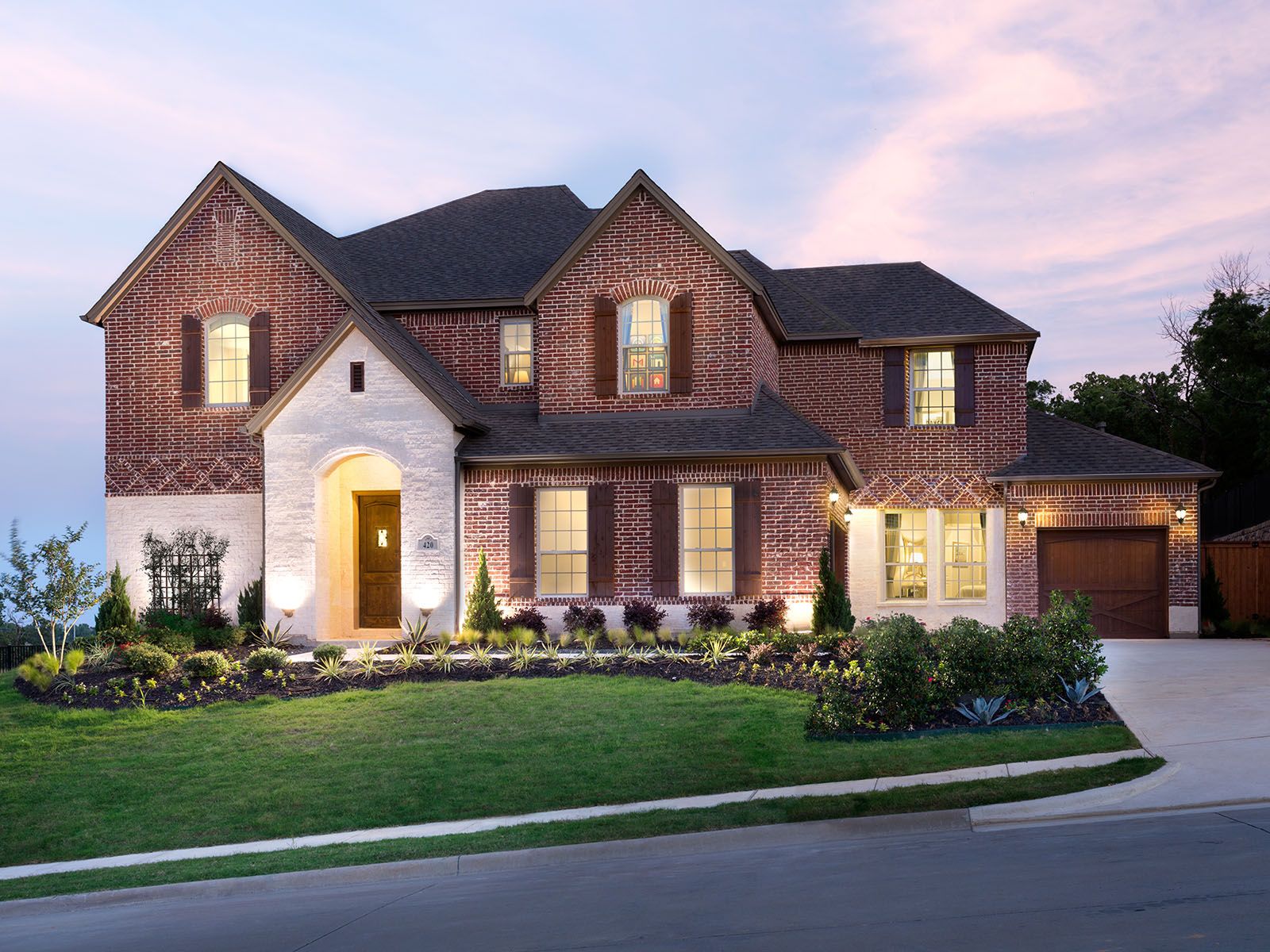 Meritage "Reserve Collection" model home in Keller's Marshall Ridge
You'll know you've arrived at the neighborhood when you see the entry monument from Keller Main Street / 377 and cross the iconic covered bridge leading into the neighborhood. As you pass alongside Marshall Ridge's resort-style lodge and community clubhouse you'll also get a glimpse of the neighborhood pools.
Be on the lookout for the pool slides as you pass the pool and clubhouse. Inside the amenity center, you'll find a meeting room, kitchen, and fitness center too. Across the boulevard at the entrance is one of many greenbelts and water features found in the neighborhood. Two ponds, multiple playgrounds, and several green spaces dot the addition.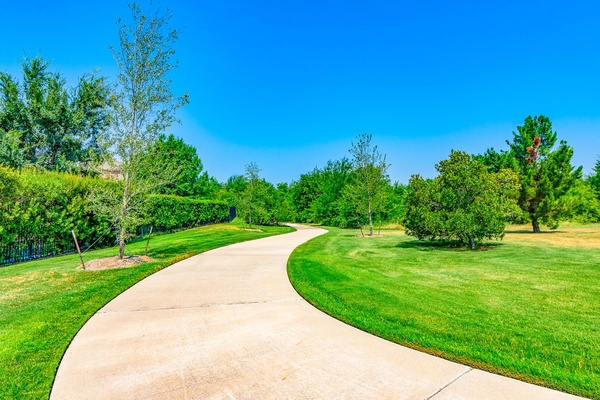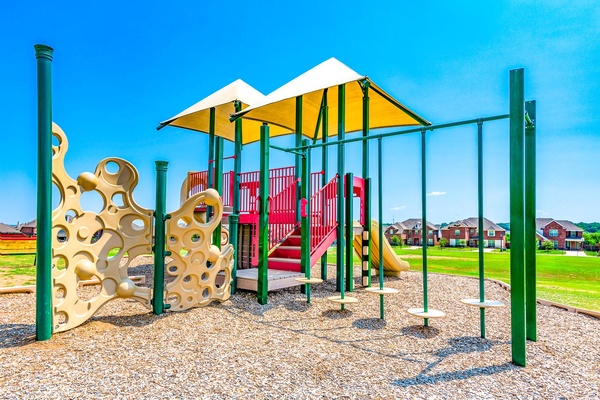 New home construction started in 2008 and the last homes were completed in 2020. While there are a few homes under 2200 square feet, the majority of houses in this Keller subdivision range from 2500 to about 5500 feet of living space. There are a few properties, however, that offer over 6000 feet under roof.
Lot sizes in Marshall Ridge, Marshall Ridge North and Marshall Ridge South sections generally run between .14 and .25 of an acre. It's more common to see lots of 1/3 acre and more in the Lakes at Marshall Ridge, Marshall Point and the later sections of Marshall Ridge.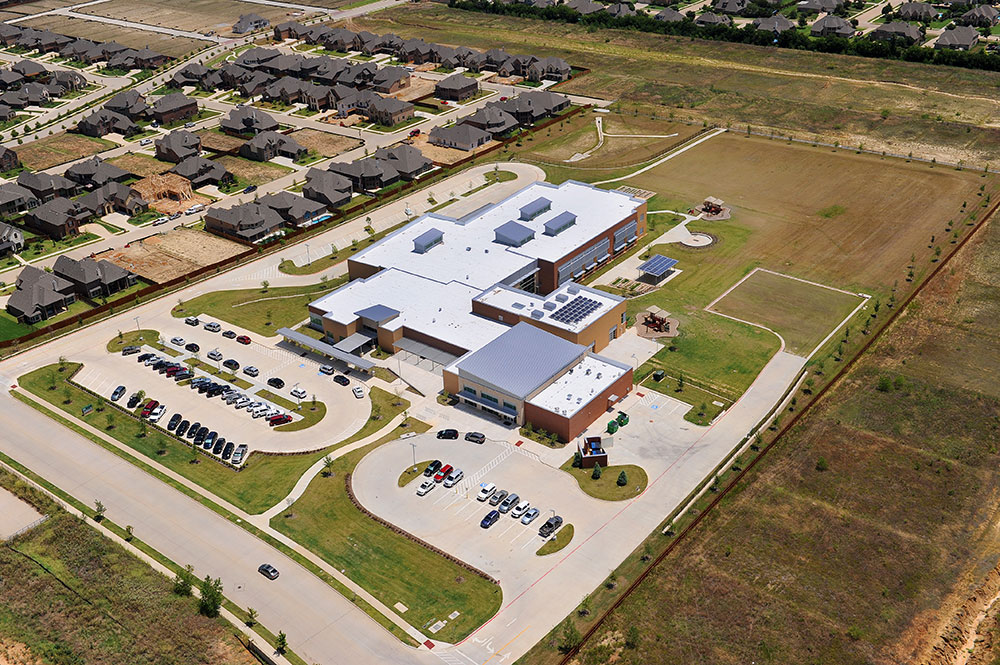 Ridgeview Elementary, home of The Rattlers, is located on the southern edge of the neighborhood and accessible by sidewalk from anywhere in Marshall Ridge
Schools are a Big Draw to Marshall Ridge
Many buyers are drawn to Marshall Ridge homes for sale because of the well thought of schools. Located in the Keller Independent School District, the neighborhood feeder pattern starts at Ridgeview Elementary which is located on the southern border of Marshall Ridge. The next stops are Bear Creek Intermediate and Keller Middle school before finishing at Keller high school for grades 9-12.
The Homes Builders in Marshall Ridge
Meritage Homes
Meritage Homes built the vast majority of homes in Marshall Ridge, offering a variety of "collections" over their time building in Marshall Ridge. The first new home construction began around the summer of 2008 and was completed in 2021. As many home builders do, Meritage changed out their new home floorplans over the years and phases of construction to keep their options of Marshall Ridge homes for sale fresh. You'll find a wide variety of designs and upgrades throughout the various phases of the Marshall Ridge addition.
Drees Homes
Other builders offered homes for sale in Keller's Marshall Ridge as well. Drees Homes, a popular veteran of the DFW area, started building in the neighborhood just as they were finishing out nearby Harmonson Farms, a neighborhood a bit east of Marshall Ridge. They completed homes in the 84-lot sister neighborhood of Marshall Point Addition as well.
Our Country Homes in Marshall Ridge Often Located on 1/2 Acre Lots
Another new home builder certainly worth mentioning is Our Country Homes. As a more custom builder, Our Country Homes offered an unlimited choice of floor plans in Marshall Ridge and allowed home buyers to choose the level of finish-out. These homes are separate from the Meritage Homes in Marshall Ridge, not mixed in, and they have a bit different look and feel.
When this builder's homes come available for sale, they are often priced higher. But when you have an opportunity to see inside these homes you'll immediately see why. The finish and detail are impeccable. Like Drees Homes, Our Country Homes built in the Marshall Point section of the neighborhood as well as Marshall Ridge, and you'll still find Our Country Homes building in Keller and surrounding areas today.
If you've read this far, you're probably deep into research on the lifestyle and homes for sale in Keller. I hope you'll reach out to me with any questions you may have about a move to Dallas-Ft. Worth area in general and Keller specifically. I've been in the real estate business in and around Keller since 1989, and I'm always happy to share what I've learned and to help you make your move to the area the best it can be for you and your family. -Cindy
For information about Marshall Ridge neighborhood properties for sale in Keller, Texas, or to schedule a showing, click "Request a Showing" when viewing any listing in Marshall Ridge Keller.
You can also create and save a custom home search by clicking the "Save this Search" button and register for a free account. A custom search will allow you to receive email alerts when new Marshall Ridge houses come on the market.
DFWMoves.com is updated every 15 minutes by a direct feed from the local MLS. This gives our website visitors the most current information for real estate in Marshall Ridge like property images; days on the market; subdivision information; feeder school information; HOA dues amounts and frequency; estimated property taxes and more.
Our site displays currently active houses for sale in Marshall Ridge as well as homes that are in the inspection period and pending. We don't remove homes for sale in Marshall Ridge Keller TX until the property is closed. We find too often homes come back on the market and we want our buyers to know all of the choices they may have of homes for sale Marshall Ridge.
Oh, and if you're looking for the
Keller TX Realtor© Near Me, That's Us!
Reach out today and let us know how we can help.
More Popular Keller Neighborhoods Near Marshall Ridge