Buy Your New House "Off The Rack" to Save
Posted by Cindy Allen on Tuesday, January 10, 2023 at 9:01:12 AM
By Cindy Allen / January 10, 2023
Comment
Have you ever had custom clothes made? They're expensive. It's the same with a home. There are exceptions, but for many of us, if we can get excited about the builder's interior decorator's choice of colors and upgrades versus starting from scratch, we're going to save money. Why?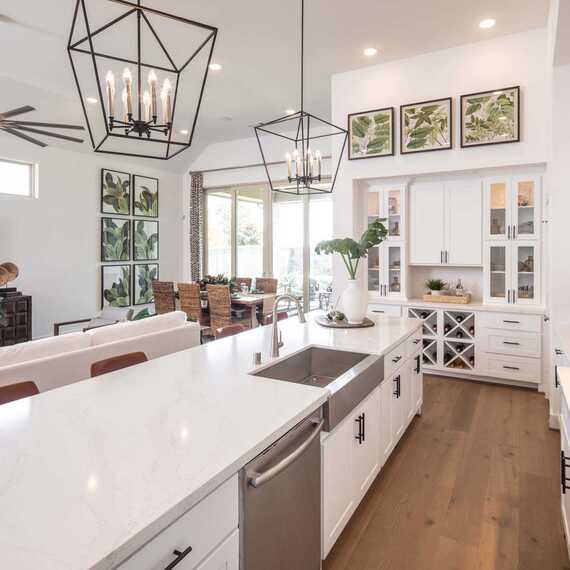 Let's say you really want that pink and green tile for the bathroom. It's not one the supplier has on hand so there's a delay. That is going to cost the builder money in holding fees or extra trade costs. Builders know this so they've included it in the cost you pay to upgrade the tile.
Let's imagine, too, that when that tile is delivered it's the wrong tile. Or needed pieces are broken. It happens all the time. That's an additional cost, in time as well as money, to the builder. Builders expect these mishaps, so they've included it in the cost you pay to upgrade.
If you're building from the ground up and making any changes (yes, adding that barn door to the media room is probably a change, and no builders don't have a stockpile of barn doors to just "go pick one up" from) there will be things that go wrong. The builder has to spend time finding a barn door that meets your expectations, or correcting issues that inevitably arise when custom changes are made. And yes, builders plan for this extra work and include it in the cost you pay to upgrade.
So when you start construction "from the ground, up", without the builder having already made choices of items they know are available and have regular, trustworthy suppliers for, you may not get some of the pricing incentives available on homes that are completed or underway.
In addition to saving money, I'd be willing to bet you'd love the decorator chosen tile in a home that's close to completion. And I can tell you after 30 years of selling real estate, we can often tell when a homeowner picked their own colors. I know, we've all seen lots of HGTV, but most of us should fight the urge to go with the "trendy pink and green tile", let the builder's pro choose the colors, and save a little money at the same time.
There are so many myths and misunderstandings about buying a new home from a builder. But when you put yourself in a builder's shoes, it's easy to see why these new construction companies do what they do. And understanding that will provide you with some opportunities to get the best deal available.
Search DFWMoves.com for
New Construction Builders Home by School District
New Construction Builders Homes by City