Homes For Sale in


Waterbrook


Argyle, Texas

Click to see
All Argyle Homes
or browse Argyle homes by
Features & Popular Neighborhoods

Considering properties for sale in Argyle's Waterbrook neighborhood? Check out current Waterbrook real estate listings below. Use the blue "Refine" button to add your own search criteria. You can also change the sort order of the Waterbrook homes for sale shown below by price, days on the market, or bedroom count.

To receive email alerts when Waterbrook property listings hit the market, click the "Save this Search" button and register for a free account.

Houses in Waterbrook are in Denton County, and the76226 zip code. The Argyle School District serves Waterbrook home owners.
Current Argyle Waterbrook Real Estate Listings
Waterbrook - Argyle, Texas Homes for Sale
September 28, 2023
Waterbrook, Argyle's first mixed use-development
You'll know you've found the Waterbrook neighborhood when you see the lake with waterfall and water wheel at the main entrance on Highway 377 just south of FM 407. Waterbrook is Argyle's first planned mixed-use development combining 290 single-family homes with retail and office space that will buffer the addition on the north and west sides.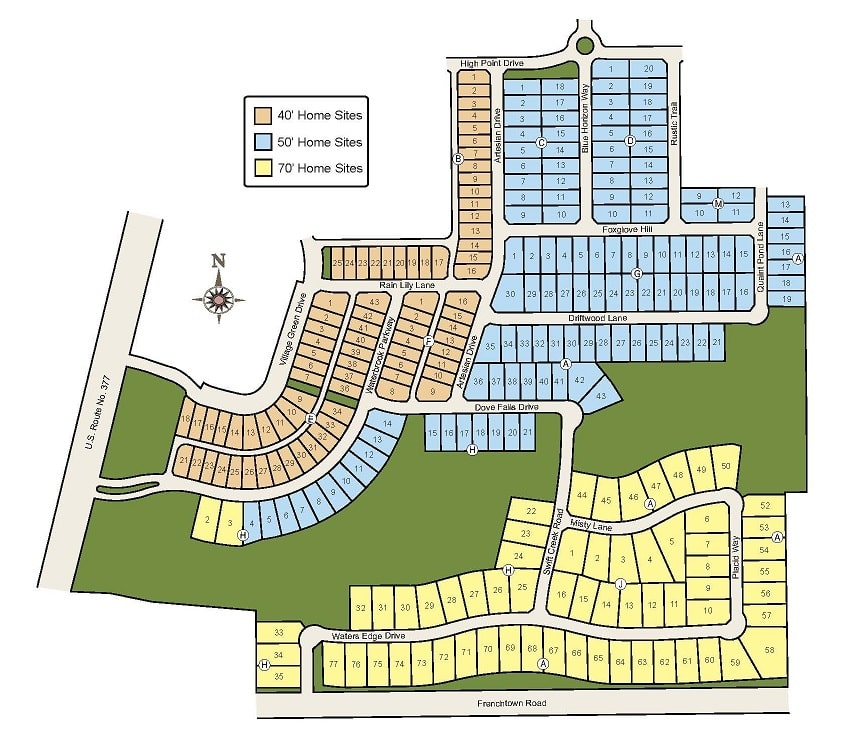 The Waterbrook Lifestyle
Trails criss-cross the neighborhood encouraging Waterbrook home owners to get out and enjoy the nearly 10 acres of scenic hiking and biking trails, amphitheater, catch and release lake and water features. These trails also allow residents to walk to the retail that are a part of the larger 105-acre Waterbrook development
The homesites available in Waterbrook include 40, 50 and 65 foot wide lots which allows for homes catering to a variety of lifestyles. Patio homes on the smaller lots start around 1900 square feet while the larger lots accommodate 3 car garage homes up to about 4200 square feet.
Many of the homes on Waterbrook's larger lots overlook the community greenbelt, while others offer views of the neighborhood's pond. Patio homes on the smaller Waterbrook homesites are built with rear-entry garages, a more unique feature for Argyle homes.
The Waterbrook HOA maintains front yards, so the subdivision always looks well maintained.
Students in Waterbrook attend Argyle Independent Schools starting at Hilltop Elementary.
The New Home Builders in Waterbrook
Lennar Homes
Gehan Homes
Coventry Homes
Get Notified When New Listings of Houses for Sale in Argyle's Waterbrook Neighborhood Come on the Market
Create and save your own custom home search by clicking the "Save this Search" button and register for a free account. That way you'll receive email alerts when new Waterbrook property listings hit the market. Using our "Save this Search" feature gives home buyers looking for real estate in the Waterbrook neighborhood the advantage in being among the first to receive the newest houses listed as they come on the market
DFWMoves.com is updated every 15 minutes by a direct feed from the local MLS, so Argyle home buyers will see the details of real estate listings in Waterbrook including the current MLS listing status (active, active option, active contingent, pending or sold) property photos, detailed maps including birds eye view, subdivision information; feeder school information; estimated property taxes and more. Argyle home buyers can also check the number of days a home has been on the market (DOM), the MLS number, and even HOA fees for Waterbrook listings.
Check out the detailed links to nearby Argyle homes for sale below the home listings on every page. You can search more popular Argyle neighborhoods like Waterbrook, or even search for special features like Argyle homes for sale with pools, in a gated community, or oversized lots.
Local, Knowledgeable Argyle Real Estate Agents
Thinking of buying or selling an Argyle home? We're local Argyle real estate agents, experts in answering all your house buying and selling questions. We know Argyle, and Woodbrook. Give us a call when you're ready to make your move. - Cindy
Search Argyle, TX Homes for Sale by Special Feature
Homes for Sale in Argyle by Popular Neighborhood