For Sale


New Construction & Builder Spec Homes


Argyle, Texas

Considering new homes for sale in Argyle, Texas? You'll be pleased with the wide range of choices for both new home builders and new home communities in Argyle. And it's possible to find new homes in every phase of construction. So if you're in a hurry for a new home in Argyle, there are many options for move-in ready, quick move in homes. Some even offer nice new home buyer incentives. If you have more time and can build a home in Argyle, you'll have a variety of new home options allowing you to build the home of your dreams. Read more about the new homes for sale in Argyle.

Click to see
All Argyle Homes
or browse Argyle homes by
Features & Popular Neighborhoods
The New Homes for Sale in Argyle, TX
New Homes for sale in Argyle, TX
September 28, 2023
The Choices of New Homes for Sale in Argyle, TX
If you've been considering new homes for sale in Argyle, you have a nice range of choices. It's possible to find new construction at all stages of completion. You may decide to pick a home from a builders' selection of floor plans and start construction from the ground up, or you could choose a home that's already being built.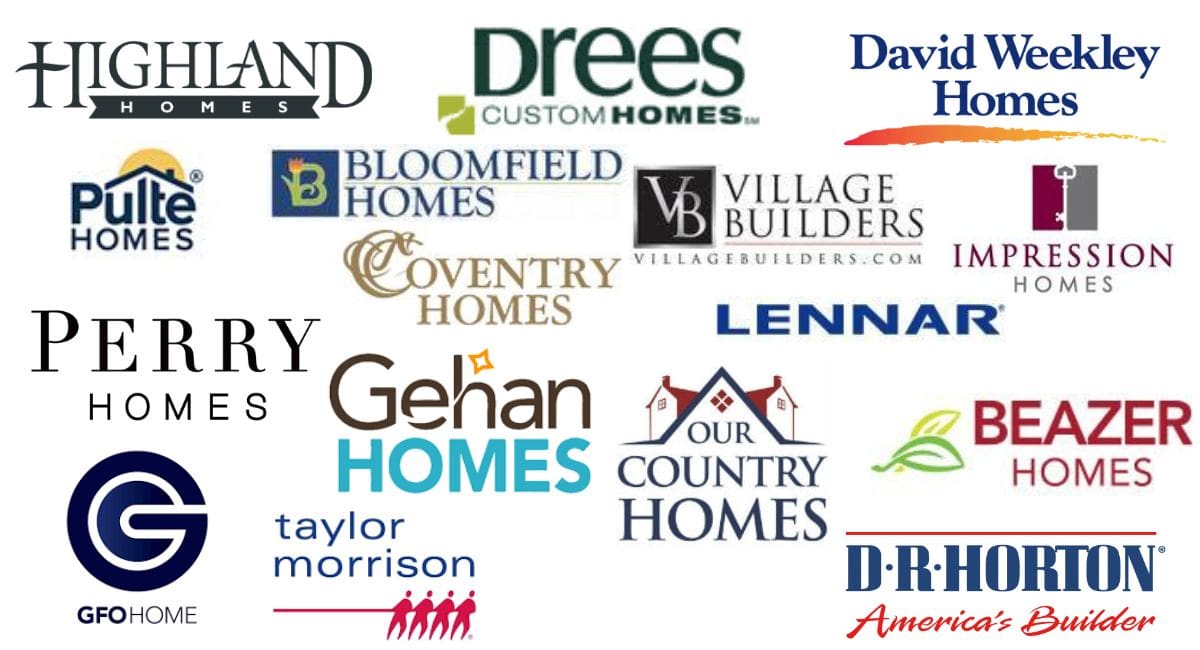 There are often many good options for move in ready, on the ground inventory homes. This may be where you'll find the best new home builder incentives as these quick move in new homes are often excess inventory for homebuilders.
Argyle new home buyers will also be able to find builder homes already under construction. These new properties allow a bit more flexibility on move-in dates. Choosing a home that has already progressed past the permitting stage for the city of Argyle, for example, can save you months in the home building process, without requiring you to close in the next 30 days as a completed inventory home might.
New Homes in the 76226 Zip Code of Argyle
Buyers looking for new homes in the 76226 zip code, Argyle, TX who have spent time researching new homes know there are many types of new construction and builder homes.
Types of New Construction and Builder Homes in Argyle
Argyle Custom Homes
Custom homes in Argyle Texas allow buyers to customize according to their preferences. Working with custom home builders in Argyle often means starting the new home building process in a stage early enough to locate and purchase a homesite with the builder. Custom homes allow owners to take part in the design process with the builder's architect, directing and defining each space to their own requirements.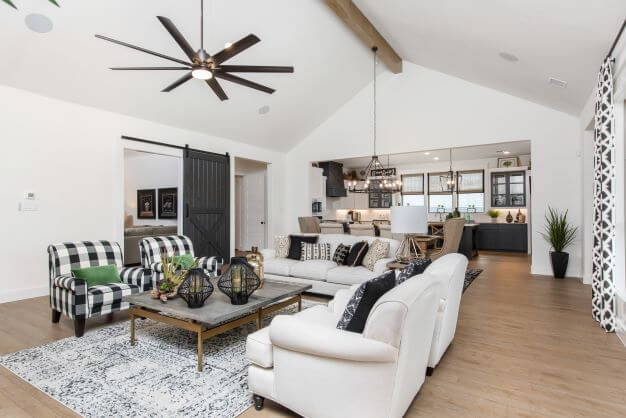 As you might imagine, these new custom homes are the most expensive option when considering building a home in Argyle. But if you know exactly what you want in a new home, designing and building a custom home can help you save a lot in the long run.
Semi-Custom Homes in Argyle
In this type of new construction, Argyle home buyers will have a choice in many of the finishes and options that go into their new home. In addition to choosing finishes from flooring material, lighting fixtures, and everything in between, the buyers of Argyle semi-custom homes will be able to make a few adjustments to their new home's floorplan. For example, they may choose a builder option to extend the primary bedroom or expand space over the garage for a media room.
New Production Homes in Argyle Texas
Argyle offers several choices of new production home builders. These new homes represent very good value for the money as these home builders have already designed floorplans that can be built efficiently while reflecting how buyers live today.
These Argyle new construction builders can pass along their big buying power savings, as well as their experience building thousands of homes each year.
Steps to Buying New Construction, Builder Homes in Argyle
Getting Pre-approved for a New Home in Argyle Texas
The first step towards buying new construction and builder homes in Argyle, and beyond, is to know how much you can borrow and how much your monthly payments will be.
It's true, most builders do have a preferred lender you'll want to consider as there can be new home incentives tied to using the builder's lender. That's well and good, after you've chosen a builder. While shopping for a new home, however, you need to know your price range.
Enlisting the Help of New Home Real Estate Experts
It's often wise to enlist an agent that specializes in new construction. Some buyers considering new homes in Argyle mistakenly believe they'll save money by not working with an agent. These Argyle home buyers don't understand that an agent's commissions come from a builder's marketing budget and have nothing to do with the negotiated price of the home.
When you walk into an Argyle new home subdivision sales office, the smiling face that greets you works for the builder, not you. They're certainly happy to tell you about the community and show you lot and flooroplan options, but they're representing the builders' interests.
Choose The Right New Home Neighborhoods and Locations
As local experts, the agents at DFWMoves know the Argyle new home market. We've built relationships with the home builder representatives. We understand the building process and can help you see how each builder fits your wants and needs. Or, perhaps more importantly, doesn't.
We have lots of experience looking out for things you likely won't see or think to ask about.
The Value of a Realtor® When Buying Argyle New Construction
As knowledgeable Argyle buyer's agents with decades of new-build experience and local builder connections, we can be invaluable, true advocates for our clients.
We stay up to date on new home trends, finishes, and smart-home technology
We work to educate clients on the pro's and con's of buying a new construction homes.
We walk clients through the entire home construction process, from choosing the lot, choosing upgrades with good resale return, ground breaking, walk-thru's, inspections, and closing on their new Argyle home.
Don't let the pristine flooring and shiny appliances of a new model home in Argyle cloud your vision: buying new construction homes is as complex as any real estate transaction. Maybe even more so. You'll need to navigate the fine print of new home builder-friendly contracts, keep an eye on the upgrades budget, and have faith that eventually you'll have a terrific new home in Argyle on time and on budget.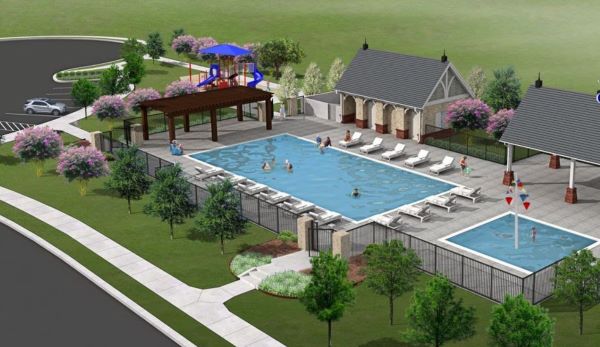 The New Home Communities in Argyle Texas
There are many new home subdivisions in Argyle, TX to choose from, with many others planned for the future. The range of new communities encompasses the full range of new home builders, from fully custom homes to production home builders.
Some of the new Argyle neighborhoods include large planned communities that will build out with thousands of homes. These neighborhoods offer homes ranging from more budget friendly production home builders to semi-custom home building companies. These larger new planned communities include examples such as:
Builders in Argyle Include Popular Area Favorites
The new home builders in Argyle encompass the range of full custom, semi-custom and production builders. The new homes builders in Argyle that are the most prolific include:
| | |
| --- | --- |
| Highland Homes | David Weekley Homes |
| Toll Brothers | DR Horton Homes |
| Taylor Morrison | Impression Homes |
| Bloomfield Homes | Our Country Homes |
| Southgate Homes | GFO Homes |
| Drees Homes | Coventry Homes |
| Belclaire Homes | Landon Homes |
| Coventry Homes | Gehan Homes |
Thinking Long Term Resale When Considering New Homes for Sale in Argyle
Part of the reason for buying a new home in Argyle, TX is to make it your very own. It's important to keep in mind, though, that you don't want to face challenges down the line if you do ever need to resell.
If you're a typical Argyle new home buyer, you might expect to stay in your new home 8-10 years. That's plenty of time for the hottest trending styles so popular today to fade.
It's important, too, to think about a wide audience for your new home when you go to sell. For example, building a new house and constructing all showers instead of bathtubs may suit your needs. But that choice does make it harder to market your new home down the road as the next buyers may need a tub for bathing children or want to take long bubble baths. Consider your next home buyer when making new home plans.
Know What Comes Standard in Your New Argyle Home
Wow, those new subdivision builder model homes look amazing. It's so easy to fall in love. Just be careful. The model home you fell in love with may have $100,000 worth of upgrades.
The home you saw advertised for a particular price likely doesn't include top of the line countertops, wood floors, upgraded kitchen appliances and beamed ceilings.
Argyle new home builders are not trying to trick you. The model home is a representation of what the builder can do. They're also a good example of the expectations of that particular new home communities' buyers.
Make sure you understand what's included in the base price of your new home, and what will cost you extra. That way you can equally compare new homes in Argyle.
Searching Zillow for 76226 New Construction Homes?
The biggest portion of Argyle new construction home buyers start the process by searching the internet for terms like "REALTORS near me," or "Zillow new homes 76226."
While Zillow, and REALTOR.com are the biggest "go to" search engines for almost anything real estate related, they're not local. And it's important for Argyle new home buyers to remember many REALTORS® on those sites are paying a lot of money to have their name pop up and look like a local Argyle new home agent. So, how do you know you're talking to a true local Argyle new home expert?
If you found us here at DFWMoves.com while looking at homes online, you're not alone. While much of our business does come from our past clients' referrals and personal moves, we do work with many relocating buyers moving to 76226 who find us searching for terms like Best Local Argyle Real Estate Agents for New Homes. We're happy to share our decades of experience in new home sale with you, too.
Feel free to contact us for Argyle new home market information relevant to your new home search.
Bookmark this page to keep track of the latest new home property listings in Argyle, stay up-to-date on price changes, open houses, and recently sold properties nearby. This page is updated several times each day directly from the local MLS so you'll never miss an opportunity.
And, if you haven't already, be sure to register for a free account to receive email alerts whenever new home listings in Argyle come on the market.
Click to see
All Argyle Homes
or browse Argyle homes by
Features & Popular Neighborhoods
Search DFWMoves.com for
New Construction Builders Home by School District
New Construction Builders Homes by City
Considering new homes for sale in the Argyle area?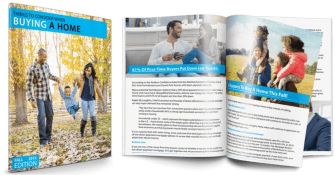 This free guide will answer many of your Argyle area home buying questions and likely bring up a few things you didn't even know you should consider.
SEND ME THE GUIDE
---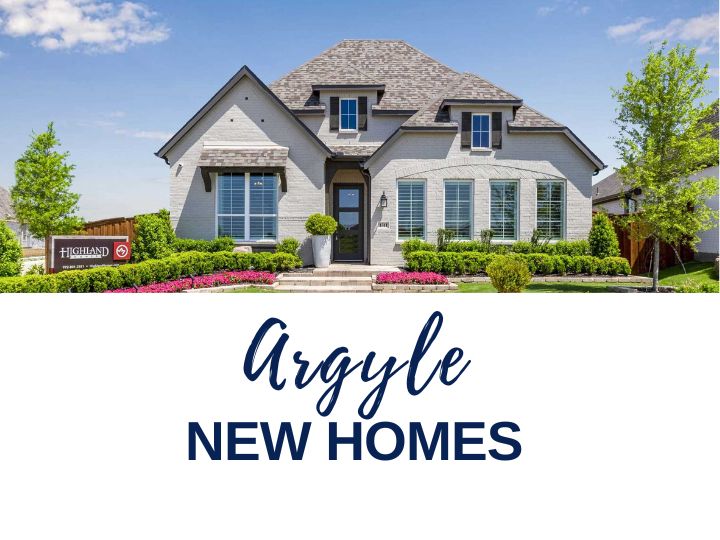 Argyle home owners live in Denton County. The zip code for Argyle is 76226.
City of Argyle GeoCoordinates:
-97.1826992029338
33.121070135327294